I love blueberries and all the health and nutrition they pack. Here's my Blueberry Ice Cream Muffins recipe from my last cookbook:
The Ingredients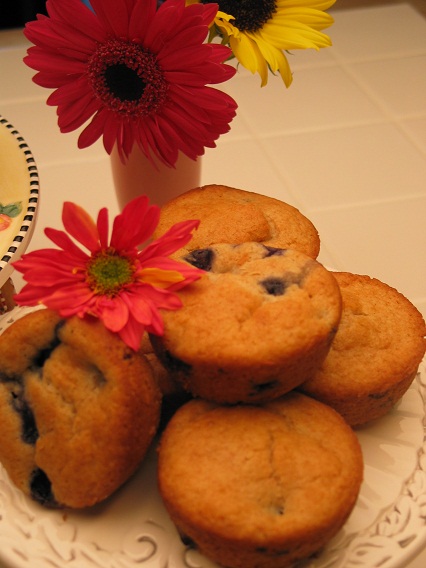 1/2 cup Better Than Ice Cream powdered mix
3/4 cup whole-wheat pastry flour
3/4 cup all-purpose flour
1 tablespoon Rumford baking powder
1 teaspoon salt
1/3 cup milled cane sugar
1 tablespoon EnerG egg replacer
2 tablespoons water
3/4 cup vanilla Silk soymilk
1/3 cup canola or vegetable oil
1 cup blueberries, fresh or frozen
The Preparation

1. In a large bowl, combine ice cream mix, flours, baking powder, salt and cane sugar.
2. In a medium bowl, whisk together the egg replacer and water until foamy. Add soymilk and oil.
3. Add wet ingredients to dry just until combined. Gently stir in blueberries.
4. Line 12 muffin cups with paper cupcake liners and fill 2/3 full. Bake at 400 degrees F for 20 to 23 minutes or until toothpick comes out clean.
Yields: 12 muffins
"Be yourself. Who else is better qualified?" – Frank J. Giblin II