I love blueberries and all the health and nutrition they pack. Here's my Blueberry Ice Cream Muffins recipe from my last cookbook:
The Ingredients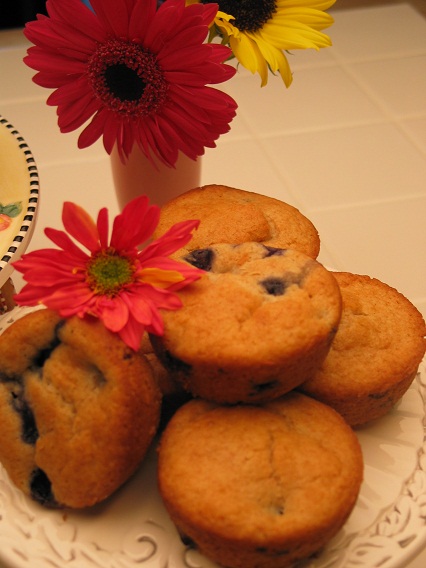 1/2 cup Better Than Ice Cream powdered mix
3/4 cup whole-wheat pastry flour
3/4 cup all-purpose flour
1 tablespoon Rumford baking powder
1 teaspoon salt
1/3 cup milled cane sugar
1 tablespoon EnerG egg replacer
2 tablespoons water
3/4 cup vanilla Silk soymilk
1/3 cup canola or vegetable oil
1 cup blueberries, fresh or frozen
The Preparation

1. In a large bowl, combine ice cream mix, flours, baking powder, salt and cane sugar.
2. In a medium bowl, whisk together the egg replacer and water until foamy. Add soymilk and oil.
3. Add wet ingredients to dry just until combined. Gently stir in blueberries.
4. Line 12 muffin cups with paper cupcake liners and fill 2/3 full. Bake at 400 degrees F for 20 to 23 minutes or until toothpick comes out clean.
Yields: 12 muffins
"Be yourself. Who else is better qualified?" – Frank J. Giblin II
Every time I make this pie it's gone in minutes! Vegan or not this is a hit every time it comes out of the oven. If done with ripe fresh peaches you won't be disappointed. It has become the defacto Father's Day Pie in our home. Read more
Blueberry, Strawberry and Pineapple.  How can you go wrong?…
This recipe is a spin-off from an old family favorite and my mother's childhood. It's slightly sweet flavor lends itself to the perfect brunch recipe. High in antioxidants and elagic acid, this recipe is packed full of health benefits as well! Adding Blueberry Noodles to your vegan diet may soothe the painful effects of Crohn's disease. Don't let its benefits fool you, this recipe is delicious regardless of your health. Read more
Simple Healthy Blueberry Sauce
3 cups blueberries, blended to a chunky consistency
1/2 cup Welch's 100 percent grape juice frozen concentrate
1 tablespoon cornstarch
1 tablespoon water
1. Bring blueberries and grape juice concentrate to a boil; simmer 5 minutes.
2. In a small bowl, dissolve cornstarch in water.
3. Add to boiling blueberries, stirring constantly. Remove from heat when sauce is desired thickness.
Makes about 3 cups of sauce.
---
Fluffy Vegan Blueberry Pancakes
3/4 cup all-purpose flour
1/2 cup whole-wheat pastry flour
1/2 cup quick oats
1/4 cup Malt-o-Meal cereal, dry
2 tablespoons milled cane sugar
4 teaspoons Rumford baking powder
1 teaspoon salt
1 tablespoon EnerG egg replacer
1/2 cup + 2 tablespoons water, divided
1 cup French Vanilla Silk creamer
1/4 cup Earth Balance margarine, melted
1 1/2 cups fresh or frozen blueberries, or substitute your favorite addition
Preparation:
1. In a large bowl combine flours, oats, cereal, cane sugar, baking powder and salt.
2. In a medium bowl, whisk together the egg replacer and 2 tablespoons of the water until foamy. Whisk in creamer, margarine and the rest of the water.
3. Pour into dry ingredients and combine. Gently stir in blueberries.
4. Heat skillet. To test for temperature, sprinkle a few drops of water in pan. If they dance across the skillet, it is hot enough. Spray lightly with oil.
5. Form four 4-inch pancakes, and cook until puffed and dry around edges. Turn and cook until golden brown. (To keep pancakes hot, stack on oven-safe plate and keep in warm oven.) Serve with warm maple syrup or Simple Blueberry Sauce (also available on the site).
Makes about twelve 4-inch pancakes